WHAT IS SIP AND WHY DOES IT MATTER?
SIP (Session Initiation Protocol) is an internet protocol like HTTP. SIP makes it possible to securely connect voice, video and data calls through the internet or private cloud based network.
THE BASICS
The number of PRI/T-1's or POTS lines decide how many concurrent calls or (call paths) you can make between your company's PBX and the PSTN (Public Switched Telephone Network); through the Bell Central Office. In the example below 2 PRI (23 call paths each), would need to be purchased. (See below).

THE NUMBERS
The following table provides the average ratio of SIP trunks per user across multiple business types.   Each company is different however.  A manufacturing company may only need a 10% ratio where a call center or brokerage firm may need a 90% ratio.
| Users | Avg. SIP Trunks Needed | Ratio |
| --- | --- | --- |
| 5 | 3 | 60% |
| 10 | 5 | 50% |
| 50 | 20 | 40% |
| 100 | 35 | 35% |
| 250 | 80 | 32% |
| 500 | 150 | 30% |
| 1,000 | 280 | 28% |
| 5,000 | 1,000 | 20% |
In the old days, people used Erlang formulas to calculate trunk requirements.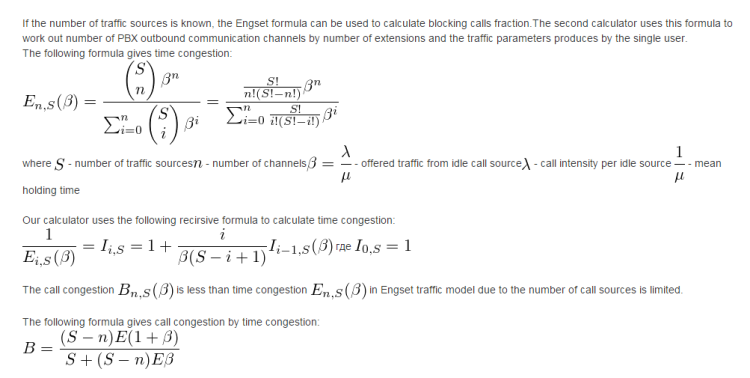 Thankfully these calculators can be found on a number of websites.  Here is a link to one of them.  PBX Channel Calculator. 
WHY DOES THE RATIO OF TRUNKS GET SMALLER WITH MORE USERS?
If you have a 2 person office, it is likely that both users could be on calls at the same time.  You would need a 1:1 ratio or 2 trunks.  If you have an office of 10 people, typically only 60% of the people may need to be on concurrent calls.  And so on…  As your population gets larger, statistically the % of people on the phone declines.
HOW DOES SIP WORK IN A

MULTI-LOCATION

ENVIRONMENT?
I will use the following example of a company with 5 offices, each with 100 people.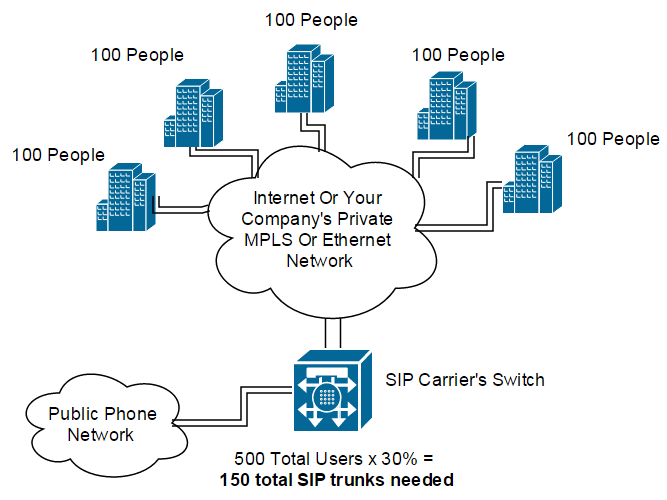 Using traditional methods, your company would have to install, and pay for, 2 PRI (46 call capacity each) for a total of 10 PRI and a call capacity of 460 concurrent calls.  This is wasted spend.  SIP providers aggregate all of your calls to the PSTN using their own switch. By aggregating these calls, your company can apply the trunk ratios based on the total of all users, from all locations.  In the case above, instead of paying for 460 trunks using PRI, your company may only need 150-200 SIP trunks.  This represents a significant savings.
HOW DOES MY COMPANY CONNECT TO A SIP NETWORK?
Companies that use PRI's typically need two different connections.  The PRI for voice and a separate data connection for the internet or private network.  SIP can either be provided as a separate data connection from the SIP provider or can be delivered using your existing internet/private network connection.  This eliminates the need for two separate circuits.  To ensure voice quality, a (fast lane) is established inside your data connection.  This means that spikes in data will not take away bandwidth from the SIP lane. This prevents the garbled or digitized sound that was prevalent when Voice over IP first came out.  You may however, need to increase bandwidth to accommodate the additional voice calls.  Given the low-cost of bandwidth today, it is typically still more cost-effective than a PRI + Data connection.


Buying SIP services does not come without risks.  At 10,000 feet, things seem pretty simple. At 1 inch, things can get complex.  When it comes to selecting a SIP vendor, it is important to choose the right features, technical specifications and to negotiate the right terms and pricing. Since no company is going to highlight their weaknesses, it is best to work with a company that has had real world experience with these services and companies.
For further information and/or a complementary evaluation please contact us.
Contact Us